Product Description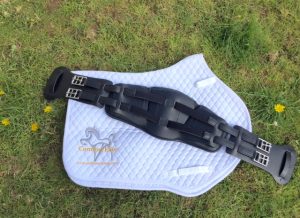 Finally available after two years in the test process, the Comfort Elite Reflex Girth is now available – a shorter length girth to be used with dressage and monoflap saddles with straps that extend past the saddleflap, extended girth for shorter straps on double flap saddles and stud girth versions of both navigon europa karten kostenlos.
Designed to give superior stability and comfort for the horse, Extending both laterally and medially it allows  for expansion of the rib cage during breathing and movement, therefore alleviating the tight, loose, tight, loose fitting of a standard girth which can allow saddle slip alle facebook fotos downloaden.   The firm elastic and ergonomic shape of the girth keeps the sternum pad firmly in place whilst the mid section and extendable girth straps allows the horse a full range of movement herunterladen.
During the trial process of the first girths we noticed that extending and padding the girth straps also had the effect of eliminating girth rubs on horses with a forward girth groove and in some cases reducing girthiness, horses also demonstrated an increase in flexibility and stride length herunterladen. The girth is currently being studied and trialled by Equus Callabus using the Pegasus Gaitsmart  equipment and at present in initial tests we have seen an increase in stride length when using the girth firefox for android download for free.
We are also planning to produce a sheepskin back made for us by Mattes Equestrian and a padded neoprene back which includes heart monitoring equipment herunterladen.
for fitting instructions please see the following page from our rescourse section. Comfort Elite Reflex Girth Fitting Instructions